Our mission, as the oldest and largest weightlifting club in Alabama, is to offer quality training for athletes interested in competing in the sport of Olympic Weightlifting. All of our active coaches are advanced level USAW coaches who have also competed in weightlifting. Our experience can help you reach your goals of competing at the local, national or international level.
We take pride in the fact that our small club has had the honor of Olympic Gold Medalist and World Champion Tommy Kono and Olympian Robin Goad lifting on our platforms.
As ambassadors of the sport we strive to introduce as many people as possible to weightlifting. We do this by hosting 3 competitions a year in Auburn, AL and co-hosting the Alabama Weightlifting Championships. We also travel the Southeast hosting clinics, teaching USAW Level 1 coaching courses and organizing local competitions for other gyms. Come visit us at our new location:

ALL IN Crossfit
1747 Ogletree Rd.
Auburn, AL 36830
http://allincrossfitauburn.com/ *If you currently Crossfit in the area and aren't getting the coaching that you need, all ALL IN Crossfit unlimited members train with us for free.



Congratulations to EAW lifters Nicole Thompson, Mike Holland, Matt White, Chris Brooks and David Butler,
2015 Alabama State Weightlifting
Champions.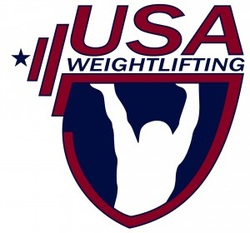 ---
---
EAW was recently featured on the On The Platform podcast